With Valentine's Day right around the corner, our inns are ready to welcome you and your special someone for a staycation! Plan a trip to any of our inns, and we'll happily help with dining suggestions to make the most of your meal. Despite restaurants in the area not being open inside (data changes frequently – for up-to-date information check the area's Safe Start website), we'll have everything you need to turn a take-out meal from a local restaurant into a cozy, romantic dinner at the inn. We provide the dishes, silverware and glassware – you just pick up the meal! Below is a curated list of our innkeeper's favorite restaurants providing take-out (as of 1/25/2021):
North Seattle / Closest to Greenlake Guest House: Duke's Seafood is a Seattle tradition and has been a part of the Greenlake Community since 1990. With a varied menu, including delicious gluten-free options, Duke's will satisfy even the pickiest of diners!  Nell's Restaurant is a neighborhood favorite. Philip Mahilski, chef and owner, offers European-inspired New American cuisine featuring the finest seasonal Northwest ingredients.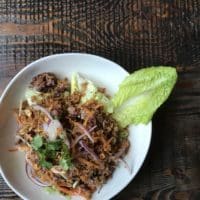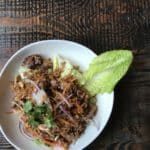 Capitol Hill / Closest to Bacon Mansion and Shafer Baillie Mansion: Monsoon boasts a fresh, modern approach to Vietnamese food with traditional recipes from Saigon, but with a Pacific Northwest twist.  Spinasse features a rustic Italian-inspired menu inspired by Italy's Piedmont region. Sauces are light, rustic and flavorful – the perfect comfort food for a Valentine's dinner or get-away weekend. Looking for a little spice?  Lionhead brings big, spicy Sichuan flavors to their plates. Their meatballs with greens, noodles and clams are a local favorite.  Rom Mai Thai is another palate-pleaser with bold, traditional Thai flavors – including their Tom Yum (a Thai soup with lemongrass and galangal which is the quintessential combination of Thai flavors).
South of Seattle / Closest to The Guest House and Three Tree Point Bed and Breakfasts: 909 Coffee and Wine sits in the heart of Old Burien. They're best known in the local community for their delicious bacon-wrapped dates and variety of Italian-inspired menu items.  Anthony's Homeport sits on the Des Moines waterfront just west of Seatac airport. With a wide promenade, it's a great destination for a waterfront walk before picking up dinner to take back to your inn!
West Seattle / Closet to The Gatewood Bed and Breakfast: Jak's Grill is a steadfast favorite in the West Seattle area – offering a mostly-meaty menu, but with fabulous salads and sides and seafood entrees, too. Just a few blocks away, Raccolto sits just right off California Avenue and brings a menu rich with Italian inspiration to their high-end vibe.
However you choose to enjoy a Valentine's stay, or a staycation, don't hesitate to reach out to our innkeeper's for their top tips on neighborhood restaurants, walks and shopping.