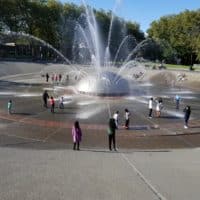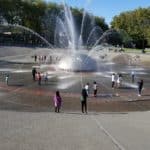 Seattle Center is well known as the home of the world famous Space Needle as well as the Chihuly Garden &Glass museum.  The Seattle center also houses the Pacific Science Center and the International Fountain, favorites of locals as well as visitors.  The iconic Fountain is a fun place to visit specially in the summer when you see children and grownups alike running to the center and running away kind of trying to not get soaking wet!
The Climate Pledge Arena is located on the West side of the Seattle Center and MoPop ( Museum of Pop) on the east side.  What many locals as well as tourist are not aware is that there is lots of public art on the 74 acre campus. 
Did you know that there is piece of the Berlin Wall inside the Armory Food Hall?  I did not.  It was donated in 1990 by a German businessman. It originally stood at Potsdamer Platz / Checkpoint Charlie. At 12.5 feet tall and 4 feet wide, it weighs about 8000 pounds.
There are 40+ acres of open space which makes it an ideal place to walk around and enjoy art that is free!  There are 49 pieces of art distributed through the open space.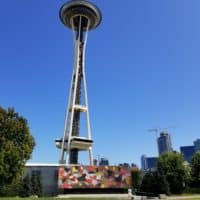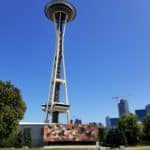 Some of the most recognized pieces and places are:  The Seattle Mural by Paul Horiuchi, there is a stage in front of it where there are concerts and dances in the summer, Grass Blades by John Flemming, located by MoPoP, Olympic Illiad by Alexander Lierberman (the bright orange metal sculpture by the lawn of the Pacific Science Center.